Hi All,
I am please to advise that WHFC teams can start training from Monday 1/6/2020,subject to conditions required by the NSW Govt, FNSW and local councils. Below is a summary of those requirements.
A roster for team training slots is below and must be adhered to. If your team is not on the sheet we have not been advised you wish to train. Any questions regarding times and days, please contact president@whsc.com.au. Remember, I could not fit 10 teams into 2 time slots, so some teams needed to move requested times.

Only 10 people are permitted per quarter field. Each oval has been broken into quarters. This includes players, coaches and managers. Field Maps below.
Each training session runs for 45 minutes. Start on time and finish on time. Arrive at your session 5 minutes before it starts and sanitise your hands (each team will initially be supplied 1 x 500ml pack, top up available). If your team has over 10 people, break into 2 groups, I have reserved you 2 x quarter fields. Maintain distancing, no handshaking or close interaction.
The Team manager must complete the Record of Attendance sheet for each quarter field and email to secretary@whsc.com.au at the start of training. Failure to do so could result in your team being removed from the training roster. This is a health requirement to allow tracing should that be required. Attendance sheets will be handed out Saturday.
Non contact training session held. The club will provide coaches and managers with resources to assist.
At the conclusion of training, sanitise your hands and return immediately to your car and leave the grounds.
Parents should not group around their child's teams training session, please wait in the car.

A separate email will be sent for coaches and managers regarding the collection of balls, sanitiser and Record of Attendance Sheets which will be held this Saturday 30/5/2020 at Max Ruddock. We must observe the social distancing requirements so please follow the roster for collection of material. If a coach or manager cannot attend, organise a parent as without this equipment, you cannot train.
By following this process, there should be no interaction between players and teams to prevent the possible spread of the Covid-19 virus.
I have received no confirmed date for when the season will start, but we should be able to get a good months worth of training in.
I understand the restrictions and protocol will be difficult to manage, but it will be worth it to again be able to kick a ball. I thank you in advance for helping the committee with the requirements set out above. It is the responsibility of all players, coaches, managers and parents to ensure they are adhered to. They are being done to protect your health and those close to you. Just a warning, police will be conducting spot checks to ensure the rules are being followed.
Please reach out if you have any questions.
Cheers
Rodney Carra
President WHFC
Field Map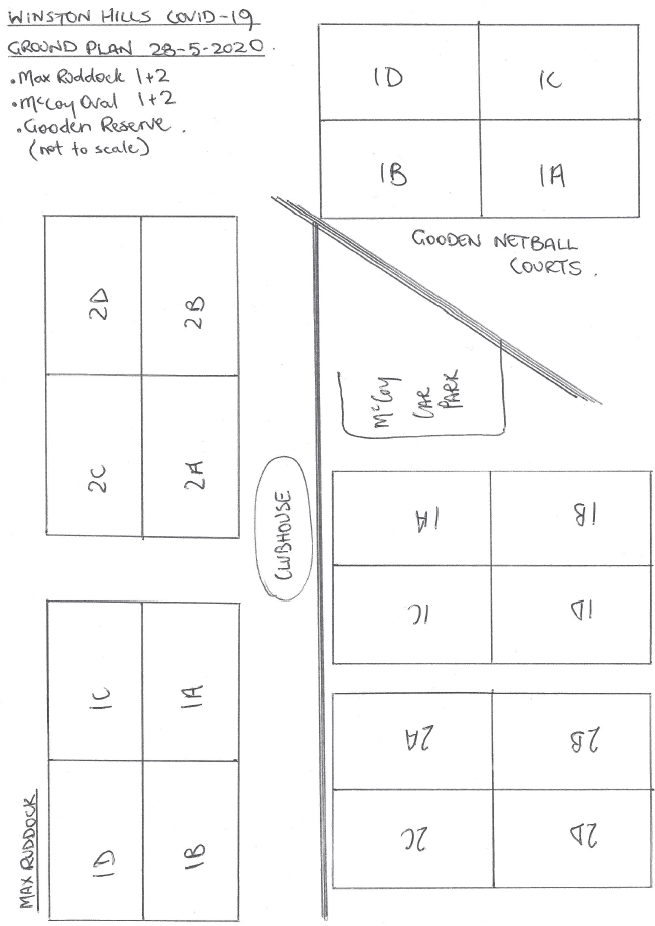 Gooden Reserve
Max Ruddock 1
Max Ruddock 2
McCoy 1
McCoy 2